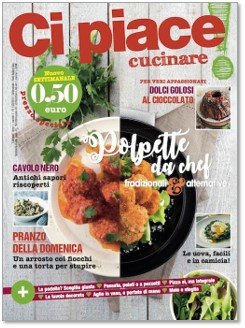 Ci Piace Cucinare
A new editorial idea involving famous chefs, foodbloggers, cooking lessons and the readers. It harmoniously connects the different cooking experiences.
This magazine addresses a dynamic and active type of reader, who makes her/his own choice, living the kitchen as if it was a social occasion: having a dinner with friends, a lunch with family, sharing these moments on social networks. It blends cultures and experiences together looking for a beautiful tasty innovation, with special consideration for health and sustainability (natural and bio).
Different from other food magazines because of its friendly, direct and ironic language, its modern and fascinating graphics and because of its content, not only about recipes but also about food culture.
Birth date 2017
Head Editor Massimiliano De Feo
Periodicity Settimanale
Issues price €0,80
Copy sales 91.719