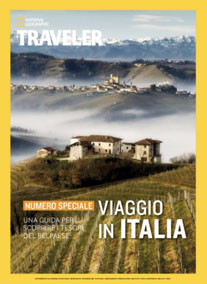 National Geographic Traveler
MAGAZINE OF TRAVELS, With a journalistic style inspired by the great adventures of discovery of the planet, each journey of the magazine becomes a story, an exciting and easy-to-read story, without neglecting the rigor of useful and pertinent information.
It tells places and cultures, for unforgettable experiences, with a careful eye on the atmospheres and realities of the local inhabitants: not only the natural wonders and the spectacular landscapes of the world, but also sitting at the table in the 10 most beautiful sea view restaurants in Italy or take refuge in the 10 most fascinating farms in our mountains. All this, obviously, favoring great photography, which has always distinguished the typical style of National Geographic.
Head Editor Marco Cattaneo
Periodicity Trimestrale
Issues price € 4,90

Press size

Page

Double page