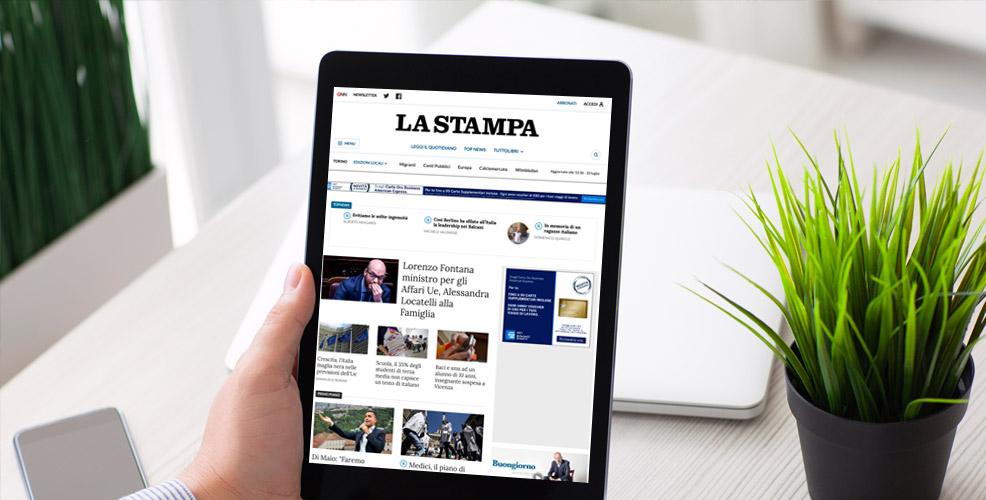 La Stampa: new website
After seven years, the La Stampa website (www.lastampa.it) has a complete makeover.

New design and editorial plan.

The key principal underlying the new project is "Transparency". Readers can get involved in real time, with their reactions and opinions. And this allows writers to follow the interaction, correcting, adding and commenting. This creates platform for constructive sharing of ideas and knowledge.

In the context of transparency, the work of the editorial team will also be presented in new columns, giving readers an understanding of how news items are created, like an open-kitchen restaurant.

Finally, the new site does away with vertical columns in favour of a more flexible and dynamic layout, designed to improve mobile user experience and access. Navigation will be more intuitive, with a simplified menu and direct access to dedicated current key themes.

Maurizio Molinari, Editor in Chief of La Stampa, had this to say: "The new design of the La Stampa website is the product of the hard work of a multitude of editorial and technical staff unified in their desire to make our newspaper more transparent, to facilitate dialogue between readers and journalists, and to exploit the latest technology to broaden the horizons of our intellectual community".
Source: www.gedispa.it/it/sala-stampa/gedi-informa/documento/la-stampa-nuovo-sito/page/1.html?sword=&cHash=2dcf58f7b0377a80d509048e505b5d24